Childhood food memories - meme
How exciting! I have been tagged for my first
meme
and now I feel like a certified, real blogger! And even more exciting, I was tagged by
AugustusGloop from Grab Your Fork
who was tagged by the
Adam the Amateur Gourmet
who was tagged by
Clotilde of Chocolate and Zucchini
(probably the most famous food blogger of all - she was even included in
TIME Magazine's 50 coolest blogs
!)!
Anyway, enough of the "!" and on with the meme. Growing up on
Queensland
's
Sunshine Coast
hinterland meant that I was surrounded by plantations of sugar cane, Macadamia nuts, avocados and pineapples (including
really big ones
).
Funnily enough, none of these local agricultural goings-on really had much impact on my childhood food consumption.
Instead, let me tell you about my most significant memories surrounding food.
1. Cheezels
OK, I'm starting out with a story that I hardly remember myself, but I've heard it so many times from my mother that I can picture it in my mind anyway.
When I was born in the late 70s my parents were kind of hippy idealists. I'm not quite sure how to describe them, but they didn't want my brother and I watching "American garbage" on TV...so we didn't have a TV. They didn't want us drinking soft drink and eating junk food...so I tasted McDonald's only once before I was 17.
At my cousin's birthday party when I was two or three there was the usual junk food selection spread across a table. Apparently I stood there, dumbstruck, looking at a bowl of Cheezels. I asked my mum, "What's that?" to which she replied, "Some people say it's food." So I picked one up and popped it in my mouth. I obviously liked what I tasted, because after all the other kids helped themselves to some snacks and ran off to play in the garden I stood there putting a Cheezel on each finger and then eating them one by one, totally mesmerised by the colour, the texture, and (most likely) the salt!
I still love them!
2. The lettuce leaf
My mum was big into feeding my brother and I a healthy diet. She seemed to have a "no negotiation" policy when it came to finishing our veges at dinner time. We had to eat everything on our plate before we were allowed to leave the dinner table.
I always hated lettuce. Even now I'm not a fan. On one particular occasion I had finished everything else on my plate except one lettuce leaf. I really didn't want to eat it! It was a horrible brown
mignonette lettuce
! I couldn't bear the thought! I didn't like the flavour, the colour or the texture!
So I sat there and looked at it. My mum sat there and looked at me. I thought I could get away with it. But there were no exemptions from the "finish your veges before you leave the table" rule. This lasted for half an hour. I couldn't win. I ate the lettuce and I was finally allowed to go.
3. Eating sugar
Back when I was little, I used to eat sugar straight from the sugarbowl, which was kept on the shelf next to the teabags and the tin of instant coffee. It was raw sugar - nice and crunchy!
The year was 1986. I was eight. Don't ask me why now, but my mum and I were really keen to go and see Elton John in concert in Brisbane. We had been putting our spare coins aside in a jar to save up for our tickets. Then one day I was in the kitchen helping myself to another serving of sugar and got busted by my mum who really hit the roof! She said, "That's it! I've warned you before and now we're not going to see Elton John!" And she took the jar and all my hard-earned coins away. I was devastated!
In the end we did end up going to see Elton John. It was my first concert and I remember having a fantastic time. I don't eat sugar like that anymore.
4. Mum and the sweetened condensed milk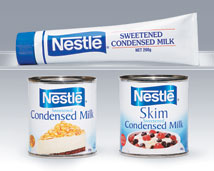 By now you might be thinking that my mum was very strict and tough. Of course, she just had our best interests at heart and was doing what mums need to do to keep their vege-hating, sugar-scoffing kids in line. Now we're the best of friends.
One day, I realised that - in addition to being my mother - my mum was a normal person too. Innocently wandering towards the fridge one day I saw that my mum was standing there with the door open. Not that unusual, as the was the only cook in the household. What
was
unusual and made my eyes light up was the fact that in one hand she was holding a tin of
Sweetened Condensed Milk
and in the other hand was a teaspoon. I couldn't believe my eyes! My mum was eating Sweetened Condensed Milk straight out of the tin! When she saw me, her face took on the same super guilty look that I probably sported when I got busted eating sugar.
5. Hog's Breath Steak
This event took place after I had technically left my "childhood", although my culinary appreciation was still in its infancy. I was 18 when I first visited the
Hog's Breath Cafe
in
Airlie Beach
. I ate the
Hickory Smoked Prime Rib
.
I was amazed. Until that day, "steak" had just been the meat in the "meat and three veg", less than 1cm thick and often coated with pepper. Hog's Breath was responsible for making me understand just how tender and delicious steak can be. I've never looked back!
Who's next?
I'd like to hear about the childhood food memories of:
Fanny from
foodbeam
- I'm sure she's got plenty of yummy French food memories to share
Barbara from
winosandfoodies
- an Aussie wine-lover in New Zealand
Pseudo Chef from
Cook & Eat
- a food and cat fan from Perth
food and drink
meme
family
memories